Adopt A Village
THE PROBLEM
India has a population of 1.2 billion of which 68% is rural.
77 million Indians lack access to safe drinking water
85% of country is dependent directly on groundwater as its main source of water, yet the Central Ground Water Board estimates that over half of India's groundwater is contaminated with poisonous substances
According to World Bank estimates, 21% of communicable diseases in India are related to unsafe water
OUR SOLUTION:
Strategically designed for remote, off-grid locations with central oversight and management.
Low-footprint public facing Water ATMs provide 24x7 availability of water at an transparent, affordable price.
Continuous monitoring of real time field data and vital process parameters means stakeholders are guaranteed of water quality and project management.
Field teams provide business handholding for local entrepreneur, engage community leaders and lead door to door health awareness campaigns.

Sarvajal Impact at the Grassroot Level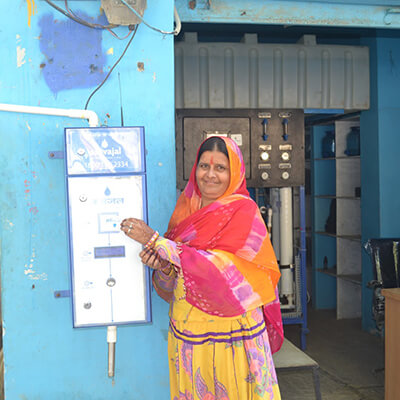 Families save burdensome cost of healthcare to treat waterborne diseases
Work absenteeism due to water related illnesses is reduced
Sustainable local jobs are created through Sarvajal's operation
Success of Sarvajal's work inspires other entrepreneurs to enter the decentralized drinking water sector, bolstering the local market
Model is self-sustaining, even after the philanthropic start-up funds expire
Invested capital is used judiciously and efficiently to fund a local initiative
Provides real time data monitoring services to measure social impact
Data driven transparency to the last mile assures optimized productivity of sponsored projects
Donors create lasting legacy by investing in long term sustainable ventures with local buy-in
Create access to a Safe Drinking Water for rural India