Strengthening programs funded by the government
Currently, more than 15,000 community based water purification plants have been installed at rural locations across multiple states by the respective state governments. However, due to various issues, 50-60% of these installations are barely functioning. Sarvajal aims to enable the government by leveraging our learnings in the field of...
1. Community ownership by engaging the communities especially women to take on a more hands on role;
2. Capacity building of the district officials and local government and non-government bodies
3. IoT based Monitoring of the installed solutions, the Piped Water Monitoring System designed and demonstrated by Sarvajal helps in ascertaining service levels (water extracted and distributed) on a real time basis as also realtime tracking of duration of the usage of the water pump.
4. Creating Last mile cadre of front line engineers from within the community to support sustainable service delivery over a longer period of time.
Partnered Programs
1. Niti Aayog for the Swajal Program
Piramal Foundation partnered with NITI Aayog to facilitate the implementation of Ministry of Drinking Water and Sanitation's Swajal scheme.
Swajal is a community-managed, demand-driven, mini piped water supply scheme, launched in 112 aspirational districts. Swajal promotes a demand responsive approach to deployment of water infrastructure by provision of sustainable piped water supply in rural habitations.
Our partnership was designed to deliver programmatic support in 16 Aspirational Districts across 7 states across five thematic areas: Behaviour change communication, IoT enabled monitoring and evaluation, water quality and solution design, source sustainability and effective Operations and Maintenance (O&M).
Piramal Foundation worked closely with community members and government authorities across the four-tiered administrative framework comprising – gram panchayat, district, state and national level.
Our achievements
1. Created Swajal ready habitations : Ensured that at least 160 habitations are Swajal ready: the Detailed Project Reports (DPRs) have been created and community contribution for O&M has been mobilized.
2. Demonstration of IoT enabled PWMS : Designed and deployed low-cost, IoT enabled Piped Water Monitoring Solution (PWMS) that captures and displays vital functionality indicators on a real-time basis on a web-based dashboard
3. Behaviour Change Campaigns Designed an IEC (Information, Education and Communication) toolkit – comprising animated videos, banner, notice boards, flip charts, hand fans – to facilitate the participatory planning process and sensitise the community towards safe water handling practices.
4. Capacity Building: Prepared customised training modules and conducted state- and district-level workshops for VWSC members on techno-financial management of single village piped water supply schemes.
5. Knowledge Sharing: Organised colloquia and policy meetups for various stakeholders in the WASH sector with an objective to disseminate best practices and lessons learnt through our programmatic intervention.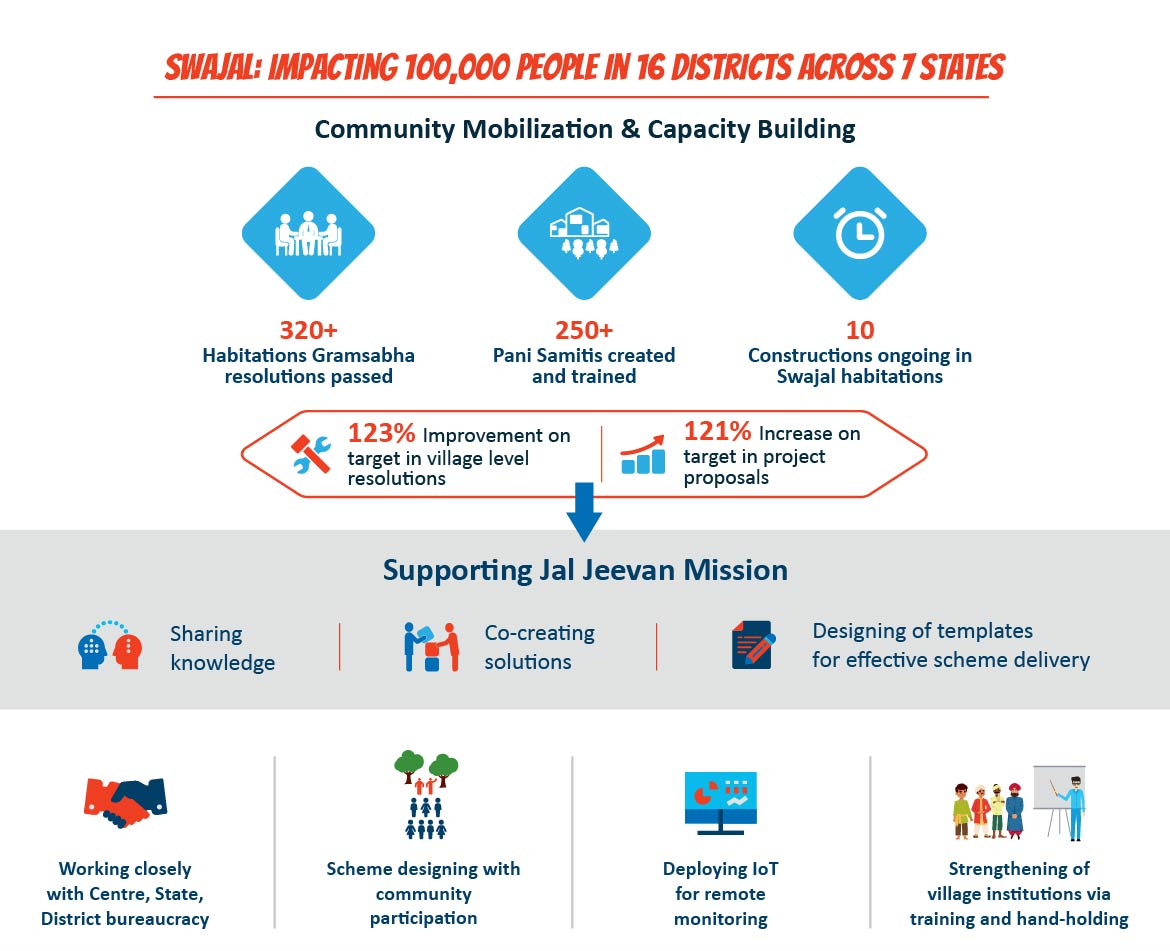 2. Jal Shakti Abhiyan:
A time-bound campaign Jal Shakti Abhiyan was launched in mission mode to improve the water conditions in 1592 blocks in 257 districts which are drought affected, water-stressed or over-exploited. Sarvajal collaborated with Ministry of Jal Shakti to facilitate the mission in 12 districts across 9 states.
Special emphasis was laid on :
a. Organising Orientation workshops on campaign objectives
b. Drafting and facilitating district action plan.
c. Mobilising people participation in liaising with NGOs, CBOs and SHGs.
d. Conducting exposure visits and capturing success stories.
e. Conceiving, planning and executing Information, Education and Communication(IEC) drives for the mission.
Our focus areas were:
1. Community Mobilisation:

a. Engaging with community.
b. Organizing Jal Yatra with community.
c. Educating school children.

2. Capacity Building:

a. Engaging with district officials
b. Site visits with water conservation structures.
c. Workshops on water conservation practices.
Click here for more Information
3. Maharashtra Village Social Transformation Foundation (MVSTF)
Collaborated with Maharashtra Village Social Transformation Foundation (MVSTF) for the Pilot Project for Providing Safe and Sustainable Drinking Water Solutions through Self-Help Groups in Select Districts of Maharashtra to improve condition of health in the MVSTF districts through provision of safe drinking water. 4 villages were intervened and safe drinking water set ups were installed.
Click here for more Information