Monitoring
"The Soochak makes it so easy to operate the machine. It is simple to maintain it and also to contact the company. it keeps the machine in good condition and allows me to use it properly but it also attracts a lot of customers." - Jitenbhai, franchisee (5 years)
in TajPur, Gujarat
SOOCHAK
The Soochak is a remote monitoring device which can be mounted on a commercial-scale water purification plant. This patented device captures minute-by-minute machine status on our technology backend and allows Piramal Sarvajal to sustainably bring affordable, safe drinking water to underserved communities in the most far-flung reaches of India. At the same time, it's touch screen guides local operators on the daily functioning of the plant in the local language.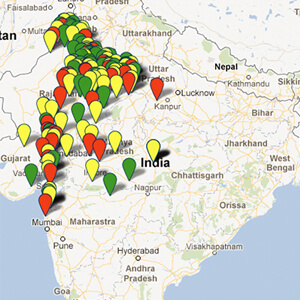 Piped Water Monitoring Solution (PWMS)
Building on Sarvajal's core strength of designing technology-enabled information layer on decentralized water systems, our research team has designed a low-cost Piped Water Monitoring Solution (PWMS). PWMS was developed under the purview of our partnership with NITI Aayog to facilitate the implementation of Swajal.
The PWMS comprises of three components:
Smart water Sensors to measure vital statistics (quality, quantity, regularity, etc.) of the piped water scheme,
Control unit to relay information provided by the sensors to a remote/cloud server, and
Database to store/ retrieve information and a Web-based application to visualize key statistics by leveraging data analytics.
Three pilot demonstration has been implemented in Kamrup (Assam), Kheda (Gujarat), and Nalanda (Bihar) in 2019.
Real Time Impact Data
Our partners know the social impact they're creating from transparent data directly from the field
Tracking Vital Process Parameters
Tracking the flow, quality and quantity of water for optimum processing
Plan Proactively
Avoid operational downtime with efficient and proactive maintenance
Operational Oversight
Know the relative performance of different locations and operators for better management insights