What We Do
Piramal Sarvajal has been a pioneer in deploying remotely tracked community-level drinking water purification systems by bringing accountability to day-to-day operations. By being technology-driven, we ensure better machine and operator accountability, meaning better service for our communities.
Piramal Sarvajal, provides safe drinking water through customized decentralized drinking water solutions at selected urban / rural locations. This is achieved through installation of a state-of-the-art community level purification plant for delivery of safe drinking water at affordable prices to the beneficiaries.
The project is operated in partnership with a local entrepreneur or the local Panchayat/ Community Based Organization; thereby creating sustainable livelihood opportunities within the chosen community.
To address the issue of effective post-purification water distribution, Piramal Sarvajal has innovated a unique Water ATM model that uses smart cards to create price transparency and quality accountability to the last mile.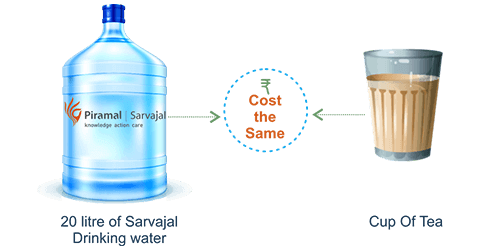 Operating Models
MODEL 1:
Single Unit Community Solution
One purification plant installed in any community (village, school, construction site etc.).
Optional installation of Water ATMs to track water consumption by beneficiaries
Piramal Sarvajal trains an operator/entrepreneur who manages local daily operations
Piramal Sarvajal provides regular maintenance support and community awareness drives
All partners have access to daily and monthly performance reports using real-time data from the ground